Multi-deck chiller cabinet blinds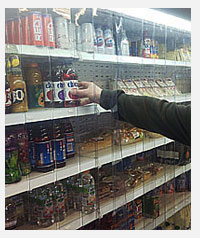 Fitting an open chiller cabinet or multi-deck unit with PVC blinds can drastically reduce energy consumption whilst maintaining easy access and visibility into the unit.
Cooling the warm air that penetrates a chiller cabinet wastes a significant amount of energy. PVC strip blinds prevent warm air from entering the unit and stop cold air from escaping, yielding massive reductions in electricity usage. In addition, fitting a unit with high quality PVC curtains significantly lessens the load on the electrical compressor that lowers the temperature, thereby extending the life of your appliance.
Featuring strips that are just 100mm wide and 1.2mm and made from highly transparent food grade PVC, our chiller blinds are attractive, unobtrusive and lightweight. The blind will come pre-assembled and ready to hang in place from the supplied self adhesive hooks.

Please use the following quote generator for a chiller blind quote...