Fork-lift truck curtains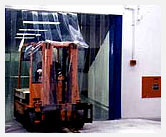 Ribbing not only retains clarity by preventing the strip face from scratching, but also strengthens the strip.
Our durable double-ribbed PVC strip curtains are ideal for doorways and loading bays subject to high volumes of traffic. They are made from super-tough ribbed PVC that has undergone stringent testing to ensure it can withstand repeated impact from fork lift trucks, pallet trucks and other industrial equipment.
Available in standard or freezer grade, our ribbed curtains offer the same insulating qualities and energy saving benefits as our standard Crystal Clear PVC curtains.
Our ribbed curtains are:
- Damage resistant
- Durable and hard-wearing
- Energy saving
- Ideal for openings subject to heavy industrial use.