Standard grade crystal clear PVC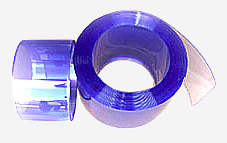 Our flagship Crystal Clear PVC strip curtains are our best-selling product. That they are used by a diverse range of organisations, from nurseries to hospitals, SMEs and blue chip manufacturers, is evidence of their versatility and quality.
Able to withstand temperatures from +38°C down to -10°C, our Crystal Clear PVC tackles most applications with ease, from pedestrian doorways in office environments to exterior warehouse entrances.
Energy reduction and climate control are the principal reasons for buying our standard PVC strip curtains. With its excellent thermal insulation properties, PVC is a cost-effective means of minimising heat loss during the colder months, with curtains often paying for themselves within the first winter.
But these aren't the only reasons for buying our Crystal Clear PVC curtains – plastic curtains also provide protection from noise, dust and airborne pests.
And the beauty of PVC is that it is flexible, hard-wearing and totally transparent, so neither light transmission nor vehicle and pedestrian access are compromised in any way.
Our curtains can be hung using either the fixed or sliding suspension system.
We offer both made-to-measure curtains and off-the-shelf PVC curtains to fit most standard pedestrian doorways.