Pedestrian PVC curtains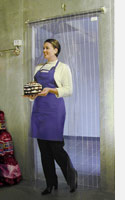 We have developed a range of 'off the shelf' kits for our best-selling curtains in standard pedestrian doorway applications. These are suitable for doorways measuring up to 1m wide and 2.2m high in settings such as bakeries, shops and restaurants.
Ordering one of these kits will give you exactly the same quality of product as our made-to-measure service, but at a lower cost and with faster delivery.
Our pedestrian doorway curtain kits come complete with:
- 200mm wide x 2mm thick food safe, UV stabilised, Crystal Clear PVC strips as standard
- Sturdy stainless steel hook-on hanging rail, pre-drilled for both ceiling and wall mounting
- Wipe-clean polycarbonate or stainless steel hanging plates
- Fast, free UK delivery.

With excellent thermal insulation properties, these all-purpose curtains will keep warm air in during the winter, or help control the temperature of air conditioned environments. In addition, this grade of PVC can help prevent dust contamination and will reduce noise pollution by up to 30 dB. Our all-purpose curtains offer good light transmission and are suitable for temperatures ranging from +38°C through to -10°C.
Our high quality freezer grade PVC will remain flexible down to temperatures as low as -40°C, making it ideal for cold stores, refrigerated vehicles and walk-in freezer rooms.
Welding grade PVC provides effective screening from 'welding flash' and harmful UV rays. It conforms to EN1598 standards and will reduce airborne noise by upto 30dB.